On Sunday, Jule, Bekki and I went fabric shopping in Potsdam. It´s always a big deal :D (at least it´s one for me ;)).
I gained some extra money, so I didn´t need to have a guilty conscience :D
On my "shopping list" (it was some kind of alibi because there was nothing I really needed :D) was:
white cotton, linen, yarn, jersey, oilcloth
Surprise, surprise: I found almost everything I wanted. The most important thing was the white cotton.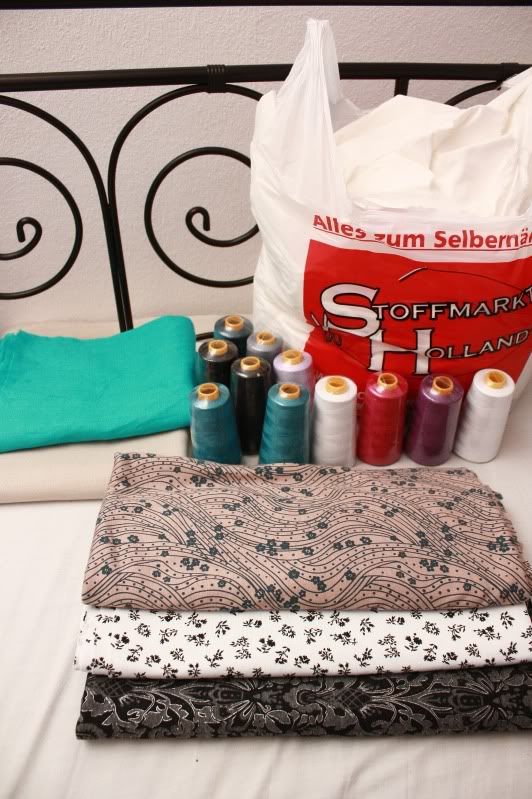 1m turquoise linen (4€)
1m beige linen (4€)
3x1,5m jersey (15€)
11 cones of yarn (~15€)
It´s just about 23m of the cotton...not worth mentioning :D (69€)
The dealer wasn´t that nice: he measured the fabric cm by cm, he did not give any discount and he pushed the fabric into the bag instead of leaving it on the cardboard. Pretty frustrating... but well, it was just about 3€/m.
Some kind of successful, hm?
*-*-*-*-*-*
Jule and I ordered sewing machine feet from good old USA. They arrived on Saturday, which was perfect :D
I had to try them on Sunday after the market.
It´s a ruffler and a bias binder foot. The ruffler is as big as my palm O.o
They work perfectly and I already love them. I can´t wait for some free time to sew a nice ruffled white skirt for summer *-*
*-*-*-*-*-*
Unfortunately, I don´t really got time for sewing atm. I´m stressed, the baby will be born soon and the quilt is far away from being completed... Hm.
I´m excited by our vacation trip to London... it´s pretty soon *-* Can´t wait to see this beautiful city again!
(I hope I´ll have some time to care for the awards, atm I just can´t...)